Audio Recordings Providing A Strong Response To Missionary Claims.
All Of Jews For Judaism's Educational Materials Are Available For Free Download For Personal Use Only.

he Jews For Judaism Counter-missionary Survival Seminar with Rabbi Michael Skobac.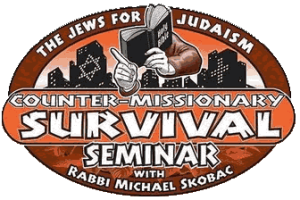 T The Counter-missionary Survival Seminar is the definitive, internationally acclaimed 10-part audio series, presented by Rabbi Michael Skobac, Education Director of JEWS FOR JUDAISM (Canada), that concisely presents the Jewish response to Christian missionary claims. Rabbi Skobac is one of the world's leading rabbinical counter-missionary authorities and is a highly qualified and very successful exit-counsellor who has helped rescue many Jews from the evangelical Christian church. This unique audio series presents over 17 hours of thought provoking educational material which builds pride in your Jewish heritage and empowers you with the ability to respond with confidence to any Christian missionary who challenges your Jewish beliefs. Please click the link below to access or download these remarkable recordings.
To Listen To Any Lecture, Please Click On Its Title
Counter-missionary Survival Seminar – Audio:
What Every Jew Should Know About Missionaries Counter-missionary Seminar  – Rabbi Bentzion Kravitz  – 1990
How To Answer A Christian Missionary:
Step-By-Step Biblical Refutations with Rabbi Michael Skobac.  This "classic" counter-missionary audio recording was created to provide you with a basic understanding of the issues most commonly raised by Christian missionaries. It is often intimidating to be confronted with a barrage of Biblical quotations from someone intent on subverting your faith.