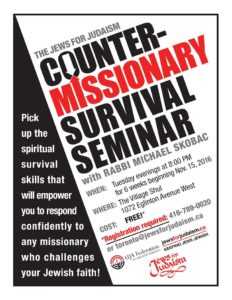 The Jews for Judaism COUNTER-MISSIONARY SURVIVAL SEMINAR with Rabbi Michael Skobac
Tuesday Nov. 15 for 6 Consecutive Weeks
Pick up the spiritual survival skills that will empower you to respond confidently to any missionary who challenges your Judaism! The curriculum covers all major claims that are raised by Christian missionaries. Attendees leave with a tremendous boost in their Jewish pride and confidence.
Tuesday Nov. 15 – Dec. 20, 2016 at 8:00 pm for 6 Consecutive Weeks
THE VILLAGE SHUL
1072 Eglinton Ave West
Toronto, ON Canada
To Register contact 416-789-0020 or toronto@jewsforjudaism.ca
Admission: FREE
Topics include:
Session 1 – THE BATTLE FOR THE JEWISH SOUL: Today's Missionary Threat to Jews
Session 2 – THE REAL MESSIAH Part 1: Why Jesus Is Not The Messiah
Session 3 – THE REAL MESSIAH Part 2: Can 2 Billion Christians Be Wrong?
Session 4 – DECONSTRUCTING MISSIONARY PROOFS: How Missionaries Distort Bible
Session 5 – SIN, SACRIFICE & ATONEMENT: Why Jesus Didn't Have to Die for Sin
Session 6 – ISAIAH 53, G-D'S SUFFERING SERVANT: Who Is It… Israel or Messiah?
IF YOU CAN'T ATTEND, you can watch ALL seminar lectures on our YouTube channel by clicking here.