DEEPENING JEWISH EXPERIENCE: The Spiritual Dimension: a 6-part lecture series with Rabbi Michael Skobac Starts Thursday November 10, 2016
If you want to deepen your understanding of Judaism, are seeking more from your Jewish experience, or are just curious — then this seminar is for you!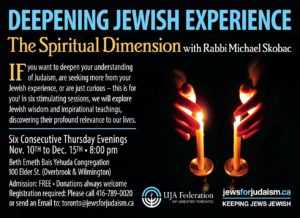 In six stimulating sessions, Rabbi Skobac explores Jewish wisdom and inspirational teachings, discovering their profound relevance to your life. Enjoy!
Six Consecutive Wednesday evenings
starting Nov. 10 to Dec. 15 • 8:00 pm
BETH EMETH BAIS YEHUDA CONGREGATION
100 Elder St., (Overbrook & Wilmington),
Toronto, ON Canada
Admission: FREE • Donations always welcome
REGISTRATION IS REQUIRED: Call 416-789-0020 or email toronto@jewsforjudaism.ca
Topics include:
Nov 10: THE STRUCTURE AND GOALS OF JUDAISM: Understanding The Big Picture
Nov 17: CREATING THE MASTERPIECE THAT IS YOU: Personal Growth Through Mussar
Nov 24: JEWISH PRAYER AND MEDITATION: Connecting With God
Dec 01: SHABBAT AND HOLIDAYS: Creating Islands In Time
Dec 08: EVERY DAY, DOWN TO EARTH SPIRITUALITY
Dec 15: SEEKING GOD: Faith And Doubt
IF YOU CANNOT ATTEND, you can watch ALL six lectures on our Youtube channel by clicking here.