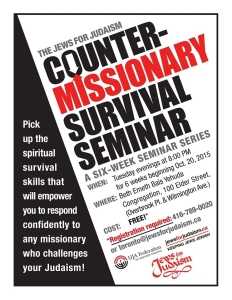 The Counter-Missionary Survival Seminar with Rabbi Michael Skobac.
Pick up the spiritual survival skills that will empower you to respond confidently to any Christian missionary who challenges your Jewish beliefs.
The Counter-Missionary Survival Seminar
The curriculum of the "First Level" seminar covers all of the major claims that are raised by Christian missionaries. Attendees leave with a tremendous boost in their Jewish pride and confidence. The Counter-Missionary Survival Seminar, either in the First or Second Level, is offered in a 6-week format three times a year. A special one-day crash course can be tailored to meet your needs.
The Next Session Starts On:
Tues Oct 20 – Nov 24, 2015 at 8 pm for 6 Consecutive Weeks
Beth Emeth Bais Yehuda Congregation, 100 Elder St., (Wilmington Ave & Overbrook Pl) Toronto, ON Canada
To Register contact 416-789-0020 or toronto@jewsforjudaism.ca
Admission: Always FREE
Topics include:
Session 1 – The Battle for the Jewish Soul: Today's Missionary Threat to Jews
Session 2 – The Real Messiah A: Why Jesus is not the Messiah
Session 3 – The Real Messiah B: Can 2 Billion Christians be Wrong?
Session 4 – Deconstructing Missionary Proofs – How missionaries distort Bible
Session 5 – Sin, Sacrifice & Atonement – Why Jesus Didn't Have to Die for Sin
Session 6 – Isaiah 53: G-d's Suffering Servant – Who is it…Israel or Messiah?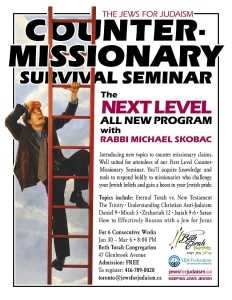 Jews For Judaism's Counter-missionary Survival Seminar's The "next" Level With Rabbi Michael Skobac
Introducing additional topics to counter missionary claims.
This series of lectures is well-suited for attendees of our "First" Level Counter-Missionary Seminar because it covers other more responses to missionary claims.
You'll acquire knowledge and tools to respond boldly to missionaries who challenge your Jewish beliefs and gain a boost in your Jewish pride.
Topics Include:
Session 7- The Eternal Torah vs. The New Testament
Session 8- Daniel 9 – Understanding Daniel's 70 weeks
Session 9- Micah 5- Zechariah 12- Isaiah 9:6
Session 10A- Satan – What the Bible Really Teaches About the Devil\
Session 10B- Trinity vs. Unity
Session 11- Understanding Christian Anti-Judaism
Session 12- How to Effectively Reason with a Jew for Jesus
(NOTE: Ad at right is a just sample. The Date, Place and Time are NOT correct.)
One night per week for 6 Consecutive weeks
Date: Spring or Fall 2015, Exact dates to be announced
Location: Location to be announced – Toronto, Ontario
Admission: FREE – Registration Recommended
For Information or to Register Call 416-789-0020 or toronto@jewsforjudaism.ca